Distill
Rely on our environmental compliance and PR experts to distill the various requirements, regulations and viewpoints into an outline for your review that is both accurate and workable.
Video
No other creative company has worked as extensively with project developers, BLM, biologists, archaeologists, paleontologists, construction and safety managers, and Native Americans to give you a tailor-made presentation of all concerns. From field shoot through HD video, DVD & handbook delivery, we've got you covered.
Print
Our graphic design team, Studio NaCl, is an award-winning creative agency with extensive experience designing and printing worker education materials. As your designer, Studio NaCl sets high standards of aesthetics and function that convey the professionalism with which you do business.
Translate
Help your workers understand what is expected of them. All of our English materials are available in Spanish, meticulously translated and warmly narrated by our Spanish team.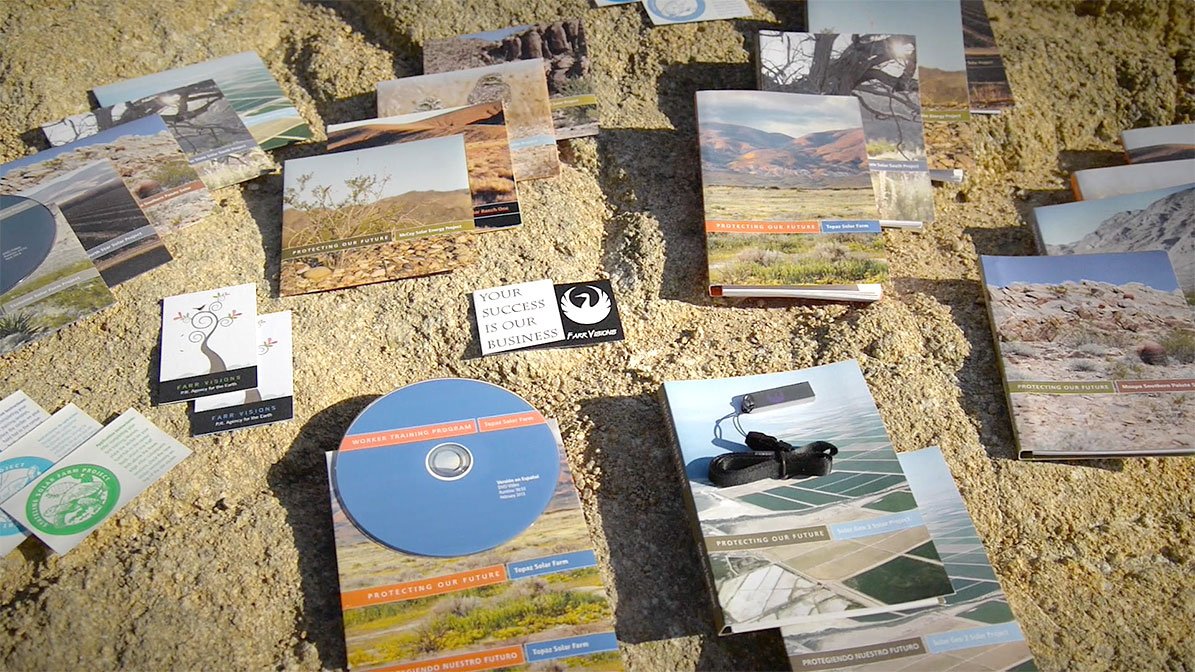 We are the most experienced producer of worker education for your industry.
Environmental protection  ·  Cultural sensitivity  ·  Worker safety
Our expertise
---
Worker training video - Our specialty
Bi-lingual programs
In-house experts & resource network
Other creative agencies do not have our experience or resources in the renewables industry
---
Farr Visions Communications
Your success is our business

PRO TIP
Every project has a set of memorable messages woven into the production using imagery, voice, music, graphics, pacing and repetition to help create awareness, inspire compliance, and thoughtfully communicate your priorities.

Environmental protection  ·  Cultural sensitivity  ·  Worker safety